Stalking tarpon, permit and bonefish on Mexico's Yucatan Peninsula
Bonefish, tarpon and permit comprise the tropical saltwater flyrodder's "Holy Trinity". All three are challenging, extremely wary, and incredibly strong fighters. Landing any one on the fly is an accomplishment. Just spotting all three in a single day is indeed rare in most areas, but landing all three in a single day is perhaps the rarest feature in flyfishing, the "Grand Slam".

Accomplishing the "Slam" requires some degree of skill, and an even greater degree of luck. Most importantly, you must be in the right spot at the right time. While slams are taken occasionally in the Florida Keys or Belize, more "Slams" come from the flats of Ascension Bay than any other area in the world.
Ascension Bay
Is situated on Mexico's Yucatan Peninsula, about 100 miles south of Cancun. The Bay is a vast and pristine wilderness area of shallow flats, mangroves and cays, buffered from the Caribbean surf by the Palencar Barrier Reef. It is further protected from development by it's inclusion in the 1.3 million acre Sian Ka'an (Mayan for "Where the Sky is Born") Biosphere. I've had the privilege of fishing Ascension Bay a number of times and the extreme good fortune to have had a "degree of luck" on my side. Grand Slams are not such a rare event in Ascension Bay. If you'd like to try for one, here's how.

First, get yourself to Ascension Bay. There are a number of fishing lodges offering access to the Bay. Among the best are Pesca Maya (www.angleradventures.com/PescaMaya), located on the north side of the bay, and Casa Blanca (www.angleradventures.com/CasaBlanca) on the south side.
Both lodges cater exclusively to anglers and have experienced rosters of professional Mayan guides, as well as providing good food and comfortable accommodations.
Bonefish and permit are abundant year round but tarpon and snook (ah yes, snook – did I mention the "Super Grand Slam"!) are more seasonably abundant from May through November. Mid-summer can provide good fishing but is the rainy season. While the winter/spring months December-April produce their share of Slams, I prefer May, June, October and November for optimum numbers of tarpon.

Ascension Bay tarpon
Will range from "baby" 5-pounders to the occasional 100 + pound fish. Most will fall in the 10 – 40 pound class. An 8 or 9 weight rod with either a floating or intermediate line will do the job, but I recommend a 10 weight in case you run into some bigger fish. Bring some pre-tied IGFA rated tarpon leaders with 16 – 20 pound class tippets and 80 – 100 pound shock tippets, and an assortment of flies tied on 1/0 to 3/0 stainless hooks. Standard patterns like the Cockroach, the Apte II, the Red & White or assorted Deceivers all work. I've also had good results with Tarpon Bunnies (all black, brown or red & white), and a no-name pattern tied traditional splayed Keys style with grizzly dyed yellow wings and palmered collar. This imitates a brackish water perch found way back up in the bay. AB tarpon are usually "good eaters", but on occasion can be selective. If you get refusals, try a smaller fly of a different color. 
Ascension Bay bones
Usually range from 2 – 5 pounds, occasionally to 10. A 7 or 8 weight rod is the most logical choice, although if the wind is very light, I may string up a 6 weight. I like a 12-foot leader with an 8 pound tippet. Standard Crazy Charlie style patterns on size 4 an 6 hooks are effective (the "Gotcha" fly works great). However, AB bones also eat small crab patterns such as a scaled down Del's Permit Merkin or Brian Jones' Fleeing Crab, tied on size 2 and 4 hooks. I always start bonefishing with a small crab pattern just in case a permit shows up. This strategy has netted me two permit in Ascension Bay. Lighter tan crabs are preferred to darker browns or greens.

Permit in Ascension Bay
Will usually range from 10 to 30 plus pounds, but fish over 40 have been taken on fly. Permit love crabs and it's only been with the development of crab fly patterns and specific techniques in recent years that flyrodders have been able to consistently take permit. These flies include Del Brown's Permit Merkin, George Anderson's McCrab and Jan Isley's Raghead among others. The "bonefish size" crabs will work in skinny water, but you're most likely to meet the permit on deeper flats where heavily weighted flies on size 1/0 and 2/0 hooks work better. I prefer a 10 weight with floating line to cast these heavy, wind resistant patterns, and a 10 – 12 foot
The deeper the flat, the more difficult to fish the crab fly/drop technique. In 4 feet or more, if you are not hooking up with crab flies, try a 1/0 Clouser Minnow in pink/white or chartreuse/white. Fish these with foot long strips. While permit don't frequently eat baitfishes, some theorize that the Clousers are taken for mantis shrimps which apparently permit also relish.

My last trip to Ascension Bay was few years ago. The week had been productive, plenty of bones, a few tarpon, a couple of nice snook and some hard fighting mutton snappers. I'd dropped a nice permit the first day, but true to form, they proved allusive the next 4 days. On my sixth and final day, Agustin guided me to 2 small tarpon and a few bones in the morning, which sent us off on the hunt to complete the slam. Around noon, we met the permit near the tip of Vigia Grande Peninsula.
However, I again experienced frustration with crab patterns on the 5-foot deep flat. Just as I was about to reach for a Clouser, Agustin suggested I try a Jack's Green Mantis Shrimp, a new permit pattern just developed by Jack Samson. I threw the shrimp to the next pod of fish, and retrieved in foot long strips. Three fish broke out of the pod and chased this fly with dorsal and caudal fins out of the water! The 10-pounder in front nailed it, and I closed out the trip with my third career Grand Slam – all three from the beautiful and bountiful Ascension Bay!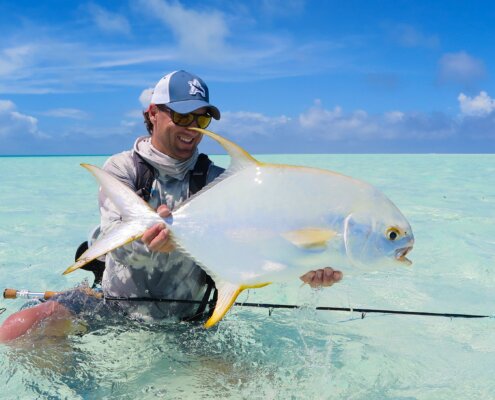 https://scandicangler.com/wp-content/uploads/2020/10/Alphonse7.jpg
1814
2560
Rasmus Ovesen
https://scandicangler.com/wp-content/uploads/2019/03/SA-275.png
Rasmus Ovesen
2020-10-08 23:21:56
2020-11-08 23:37:57
Alphonse Island – A Tropical Fishing Paradise in the Seychelles

https://scandicangler.com/wp-content/uploads/2020/06/Basics-of-Bonefish-On-A-Fly.jpg
720
1280
scandicAngler.com
https://scandicangler.com/wp-content/uploads/2019/03/SA-275.png
scandicAngler.com
2020-06-20 13:00:11
2020-11-17 20:19:51
Basics of Bonefish On A Fly

https://scandicangler.com/wp-content/uploads/2020/02/Silver-Kings-Season-6-E1-Bahamas-Bonefish-Part-1.jpg
720
1280
scandicAngler.com
https://scandicangler.com/wp-content/uploads/2019/03/SA-275.png
scandicAngler.com
2020-02-11 21:00:00
2020-11-17 20:20:35
Bahamas Bonefish Part 1

https://scandicangler.com/wp-content/uploads/2020/02/Silver-Kings-Season-6-E2-Bahamas-Bonefish-Part-2.jpg
720
1280
scandicAngler.com
https://scandicangler.com/wp-content/uploads/2019/03/SA-275.png
scandicAngler.com
2020-02-11 19:00:01
2020-11-21 17:25:20
Bahamas Bonefish Part 2

https://scandicangler.com/wp-content/uploads/2019/12/DIY-Bonefishing-Belize-at-Cayo-Frances-Farm-FLY.jpg
1080
1920
scandicAngler.com
https://scandicangler.com/wp-content/uploads/2019/03/SA-275.png
scandicAngler.com
2019-12-07 08:55:42
2020-11-21 17:27:11
DIY Bonefishing Belize

https://scandicangler.com/wp-content/uploads/2019/10/Indiana-Bones-Bahamas-Fly-Fishing-by-Todd-Moen.jpg
720
1280
scandicAngler.com
https://scandicangler.com/wp-content/uploads/2019/03/SA-275.png
scandicAngler.com
2019-10-12 14:26:24
2020-11-21 17:28:28
Indiana Bones – Bahamas Fly Fishing by Todd Moen – NEW